Partner Pages
Turn Key Air Conditioning at Premier Inn, London ››
---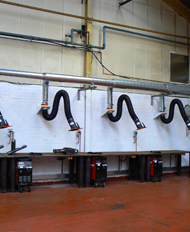 Industrial Fume Extraction
Products & Design from
www.newgateair.co.uk
Newgate Air Systems – Fume Extraction & Dust Collection
Newgate Air Systems are a UK company with an international reputation. We would like to thank our friends at Turnkey Air Conditioning Lease Finance for giving us the space to promote our services.
Newgate Air Systems have a proven track record in developing innovative, efficient and cost effective fume and dust extraction techniques. From general air ventilation systems to 'point of source' fume extraction, Newgate Air Systems match the product to the customer.
Clean Air for Industry
Newgate Air Systems designs, manufactures and installs fume extraction and dust collection systems that meet all clean air regulations and Health & Safety legislation.
We work closely with national and international companies of all sizes and in all industries. Examples of recent projects included:
Wood waste dust extract systems
Weld fume extractions
Lead burning extraction
Vehicle exhaust fume extraction
Gas appliance flue dilution extraction
General fume extraction.
We have also designed, manufactured and installed:
Combined heating and ventilation systems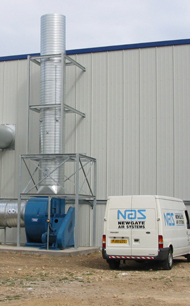 Over the years, Newgate Air Systems has developed an expertise in combined extraction techniques. Many of our clients' manufacturing methods produce a mixture of toxic fumes, gases, particles or other pollutants during the industrial process. Newgate Air Systems enjoys the challenge of developing multi-layer extraction techniques that are efficient, cost effective and built to last.
Garages & Motor Vehicle Workshops – Fume Extraction & Ventilation
Newgate Air Systems are skilled at devising multi-layered solutions in working environments where there may be more than one pollutant or contaminant.
A simple example of this is in motor vehicle manufacturers or repair centres which often require a combination of fume and dust extraction systems. Flexible point of source vehicle emission extraction for car exhausts provides a different set of problems to spray booth fumes and particle extractors. In closed-room facilities such as car spray booths, clean air must be pumped back into the environment at the same time as contaminants are removed.
A safe, clean, efficient working environment is our priority. Newgate Air Systems is registered with the Contractors Health & Safety Assessment Scheme (CHAS) and all of our installation teams carry Health & Safety Passports & Skillcards. Meeting health & safety requirements is not just a requirement but it also makes good business sense.
Where Newgate Air Systems offers the advantage is in developing made to measure clean air systems. With Newgate Air Systems, customers get exactly the fume and dust extraction system they need.
We are always happy to talk to new or existing customers about their projects, plans and requirements.
Further information on our services and products is available at www.newgateair.co.uk.
Newgate Air Systems UK Ltd
Unit 1 Marine House
Norman Terrace
Willington Quay
Wallsend
Tyne and Wear
NE28 6SU
Phone: 0191 262 3015
Fax: 0191 234 2885
E-mail: enquiries@newgateair.co.uk
Fume Extraction, Dust Extraction & Collection Systems. Welding Fume & Woodworking Dust Extraction & Collection, Spray Boot Extraction & Ventilation, Air Cleaning Systems, Fume Hoods and Cupboards, Combined Fume & Oil Mist Extraction, Heating, Ventilation & Air Conditioning Systems, Paint Spray Booths, Exhaust and Filtration, Forge Fume Extraction, Quench Tank Extraction
Newcastle | London | Glasgow | Bristol | Edinburgh | Liverpool | Manchester | Leeds | Birmingham | York | Bradford | Sheffield | Leicester | Coventry | Wolverhampton | Stoke | Derby | Nottingham | Norwich | Ipswich | Chelmsford | Cambridge | Southend | Brentwood | Basildon | Portsmouth | Exeter | Oxford | Chelmsford | Swansea | Cardiff | Luton | Chester | Preston | Southport | North West | North East | Midlands | Sunderland | Hull | Northampton | Norwich | Ipswich | Colchester | Margate | Ashford | Canterbury | Maidstone | Eastbourne | Brighton | Southampton | Reading | Oxford | Luton | Stoke | Plymouth | Preston | Wirral | Middlesbrough | Carlisle | Perth | Sterling | Aberdeen | Dundee | Inverness | Ayr