Industrial Fume & Dust Extraction from Newgate Air Systems
June 29, 2013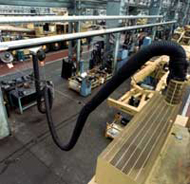 Turn Key Air Conditioning friends and marketing partners Newgate Air Systems are a British company with an international reputation for industrial fume and dust extraction.
Fume extraction and dust collection is a key element of many industrial processes. Gas fumes can be harmful to the environment, and gas & dust pollutants are damaging to health. Dust and gas particulates are also a contaminant for the product being manufactured.
Newgate Air Systems work with local, national and European companies in many industries including vehicle manufacturing and repair, brewing and distilleries, chemical and pharmaceutical plants, aviation, shipping and the oil and gas  industries. Newgate Air Systems design, manufacture and install fume extraction and dust collection systems that meet all Health & Safety and clean air legislation.
Examples of recent projects include:
Welding fume extraction
Fume hoods and cupboards
Process fume extraction & ventilation
Oil mist extraction and combined oil & fume extraction
Paint spray booth, exhaust & filtration units
Dust blow off systems
Forge fume extraction
Woodworking dust extraction and collection
Newgate Air Systems has developed an expertise in combined fume extraction techniques. Many manufacturing methods produce a mixture of toxic fumes, gases, particles or other pollutants during the industrial process. Newgate Air Systems enjoys the challenge of developing multi-layered extraction techniques. Our clients know they can rely upon on us to design and install an efficient, cost effective clean air solution that is built to last.
Another challenge is in the design and manufacture of multipoint extraction systems. An example Newgate Air System's work in this area is in the development of a multi point dust extraction system designed for a major distillery, removing explosive grain dust from eighteen different sections of the production process.
For more information on Newgate Air System projects, visit the partner page on leaseairconditioning.co.uk or check out the website at www.newgateair.co.uk.